PA's Brain Brawl team battles it out for their second national title
PA's NJROTC Brain Brawl team has brought back their national title for the second year in a row, an achievement that hasn't been without its challenges. 
Brain Brawl is in the same vein of other high school academic sports like Scholastic Bowl, where in both students competing have to "buzz in" to answer questions featuring a wide variety of material. But Brain Brawl is distinctly its own. Brain Brawl teams around the country are composed of cadets from individual NJROTC units who choose to create a team. Cadets during Brain Brawl competition can be quizzed on any material from the Naval Science textbooks which includes science, history and math all with a naval emphasis. 
Sophomore Kenul Vantwest and captain of the Brain Brawl team says that although the team was guaranteed a spot at nationals because of the previous year's win, the members had to work hard throughout the season to maintain their status and skills. 
"I think we took it kind of too easy at the beginning of the season," reflects Vantwest. "It was a really rough start. We were losing a lot of matches." Although the team ended up placing second in the region, Vantwest believes that they should've been first. 
"I feel like it was more learning how to be a team than knowing the knowledge," explains Junior Ella Scholefield. "We had to figure out our strategy." Scholefield says that at the beginning of the season, the team figured out where their weaknesses in the material were and found solutions to fix them. 
"Some people were studying more than others or studying the wrong stuff," Scholefield describes. "So then we assigned people different things to study and that really helped a lot because by the time nationals came, everyone had their own specialized area that they felt confident in." 
PA's Brain Brawl team was one of 32 teams at nationals, teams coming from several regions around the country, each with around 15 to 30 schools in each region, a competition Vantwest describes as featuring "the best of the best."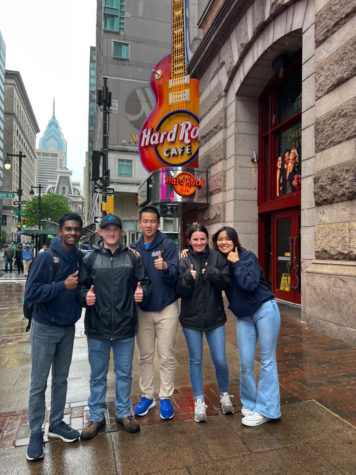 "Since we were national champions last year, that brought [Brain Brawl] to the attention of a lot more schools in the area," explains Vantwest. One school in particular, Tabb High School in York County, decided to enter a team this season, posing a threat to PA. 
Vantwest describes Tabb's team as "a big challenge" for PA throughout the season. "We actually did not win any final matches against them," says Vantwest. 
But being the reigning champions did come with an advantage in nationals. "There's different types of questions at nationals then there is at the local competitions," Scholefield explains. "We already knew that. [Tabb] had never been to nationals, so they had no idea that at nationals it's not the same questions." Scholefield explains the questions at nationals come from a much larger bank than at the local level, so Tabb had no idea what to actually study to perform as well as they did on the local level. 
Along with the advantage of last year's win, both Vantwest and Scholefield acknowledge that the IB program being housed at PA gives their team a large advantage as well. Scholefield believes that being part of the IB program includes "having the dedication to study. We did not meet up that much together to practice. If you didn't prove yourself at the competitions, getting a lot right, then you're cut." 
Vantwest also attributes the team's success to the performance of Senior Austin Zou, the Commanding Officer of PA's NJROTC unit. "I'd definitely give a lot of credit to Austin," says Vantwest. "He's a smart dude, he has great studying habits and he's been doing this for a while so he's guided the whole team on what to do and how to get ready for these kinds of competitions."  
LCDR Jason Houser (USN Ret.), one of the instructors of PA's NJROTC, emphasizes how much of the success of the Brain Brawl team comes from the students (or cadets) themselves. "They do all the work," explains Houser. "They put in all the study time, and it's always at their discretion when they want to practice and how." 
Even though the team must work together to win, this year's focus was to strengthen everyone's skills individually. "We knew right off the bat that we wanted to grow a new team," says Houser. "Austin Zou is a really really strong competitor. If we would have let him compete in all of the competitions, the rest of the team wouldn't have been able to get stronger and develop their voice and develop confidence. So we had to pull him and we had the other players play and get used to leading the team and operate without him."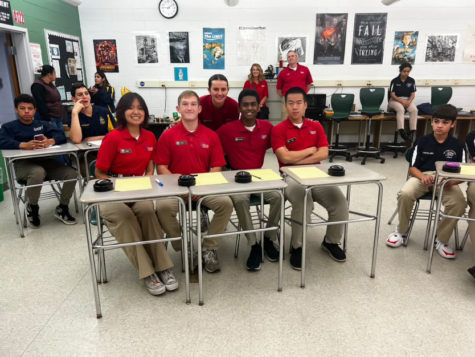 "All of the NJROTC programs are all geared towards developing future leaders," Houser explains. The motivation to study and be prepared for competitions all comes from the students on the team, not from the instructors Houser describes. "It's the teamwork and the dedication of the individual cadets that brings them success."