Lauren Daigle returns to the music scene with her most personal album to date
Nearly five years since her 2018 album 'Look Up Child', contemporary Christian singer Lauren Daigle has finally released the first ten songs from her new self-titled album 'Lauren Daigle', marking a new era for the Louisiana-born artist. 
Released on Friday May 12, 'Lauren Daigle' is Daigle's third studio album, and is set to be released as a two-part project consisting of 20 soulful songs. This new release marks the first ten songs from the album, and the last 10 will be released this fall at a later date. 
A vocal powerhouse often compared to Adele, Lauren Daigle emerged into mainstream radio following the release of her record breaking, award winning single "You Say" in 2018. Since then, her popularity has grown and her artistic style ranges beyond the contemporary Christian music genre.
The album opens with the lead single "Thank God I Do," an uplifting piano ballad that gives listeners a sense of hope and belonging in times of trouble and isolation. Released on March 8, it was the first of three singles from the album and emerged in the midst of the COVID pandemic. Track two, "Saint Ferdinand" is a song about choosing to see beauty in changing the things that you long to have. The song features singer Natalie Hemby with background vocals and GRAMMY winner Jon Batiste on the melodica.
Tracks two and three, "New" and "Waiting", are more upbeat songs that were released as the second and third singles from the album. "Kaleidoscope Jesus" is another upbeat groovy song about change and growth, and gives off a fun, playful vibe similar to "Your Wings" (another song from her last album 'Look Up Child', for those who are not familiar with Lauren Daigle's discography).
"To Know Me" and "Valuable", tracks five and seven respectively, give a sense of belonging, identity, and recognition of who you are through reassurance and self-worth. Both are perfect anthems for those that deal with self-doubt and insecurity.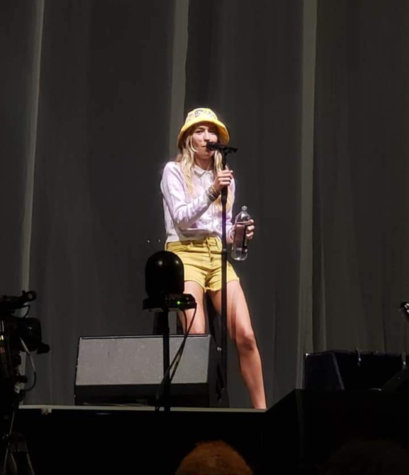 Later in track nine, "Ego" speaks on being caught up in one's own ego and searching for a way out of arrogance and entitlement. These topics can also be found in the song "Don't Believe Them", which discusses the issues in churches in today's society, like false preaching and being a lukewarm Christian, leaving listeners in conviction of their many ways of living. Daigle stresses this in lyrics like "how you gonna stand up when the world wants you kneelin' / how you gonna live out the words you're preachin' / If you don't believe them."
The album closes with the triumphant "These Are The Days", a song like the vibrant "Still Rolling Stones" (another Lauren Daigle song from her previous album) that will have you on your feet and singing along. "These Are The Days" is an encouraging song that reveals the power of her voice, which is evident throughout the entirety of the song. 
This is Daigle's first album release since signing with Atlantic Records via partnership with Centricity Music, which came back in January of this year. This is Daigle's most personal album to date, one that has been in the works for the last two years. Daigle worked on this project with the influential, GRAMMY-winning producer Mike Elizondo, who has worked with artists like Eminem, Carrie Underwood, and Twenty One Pilots to name a few. Writers for the album include Lauren Daigle, Natalie Hemby, Jason Ingram, Jon Greene and more.
Those that know me will understand just how obsessed I am with Lauren Daigle (And yes, I am currently freaking out as I write this music review.) As a superfan myself, I feel that it's only right that I share my thoughts, feelings, and opinions toward her new album. 
In my first time listening to the album from start to finish, I was blown away with her artistic talent both vocally and lyrically. Contrary to her 2018 album 'Look Up Child', Daigle takes on a new look and sound while appealing to the listener's emotions. Those that have listened to Lauren Daigle will know that she incorporates some jazz into her style of music. However, Daigle takes a different route and offers a more modern pop sound than her last two albums.
While songs like "Kaleidoscope Jesus" and "Thank God I Do" keep listeners reminded of the beauty and power of Christ, this isn't your traditional worship album. However, in the song "Don't Believe Them", Daigle addresses the deception, judgment, and hostile actions of churches in today's world, as well as reminding Christians to practice their faith in everything they do. Keeping her faith present as the album progresses serves as a testament in who she is and where she comes from, even if she doesn't mention God directly in each song. 
Some of my favorites from the album (besides every song) include "Waiting", "Ego", and "These Are The Days", mainly because they're catchy songs that you can't help but get up and dance to. Daigle's song "Valuable" is another favorite because it speaks to me personally and is an uplifting song that keeps me going. The album from start to finish (about 37 minutes) will have you experience a range of emotions, but will ultimately leave you on the edge of your seat longing for more. Overall, this album is beautiful, well written, and will be my favorite album for a long time. 
Expectations have been high from her fans since the release of her previous album, but she has proven herself once again that she can deliver when it matters most. If you haven't gotten the chance to listen yet, I would highly recommend doing so. 'Lauren Daigle' is now at the top of my list and will be on repeat for the next several weeks as I take in fully the masterpiece that she has created. Excuse me while I go fangirl over this.