Straight to States
PA's boys and girls varsity soccer teams secured their ticket to the state tournament this past Tuesday and Wednesday in the semifinals games of the region. The boys team beat First Colonial 2-1 on Tuesday, and the girls team came out with a win Wednesday against Cox, 1-0. 
"I think we were confident," explains sophomore Kishin Togashi regarding the mindset of the boys team going into Tuesday's match. "But also I think some people were definitely nervous, especially because of what was on the line." Togashi explains that along with the confidence the team carried, they were also strategic and "knew what [they] wanted to do." 
Similarly on the girls side, the team held nerves, but was focused. "I think we were really nervous but we had a sense of confidence because we beat [Cox] already," said Senior Caroline White. PA's girls beat Cox during the regular season this year, coming back from their 15 year losing streak against the team. The girls took their knowledge of Cox and applied it to Wednesday's match, hoping to repeat their win. "We knew it was going to be a really physical match," explained Senior Amelia Manke. "So we had to be able to get the ball off our foot quickly to make good passes to prevent injury."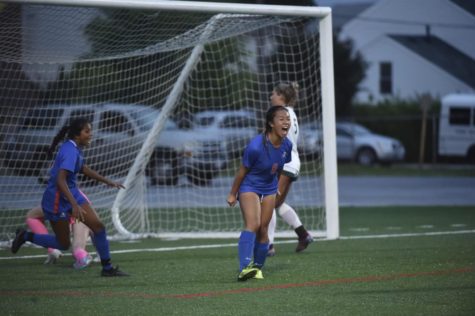 Togashi explained that the boys game had its ups and downs, but the team was still able to come out victorious. "I think the first ten minutes we started out very strong, and after we got that first goal we were very confident and we were cruising," said Togashi. Although the team let in a goal, and the refereeing wasn't up to the team's standards, Togashi believes that "the team controlled the game very well, and did everything that was in [their] control." Togashi was named player of the match for Tuesday's semifinal game. 
Looking to states for the girls team, junior Keely Ferguson is excited for the experience as well as being able to play. "I think it's going to be really fun for all of us being able to bond during states. We've never really had this experience before and we're also really excited for the road-trip there." 
"I think we're all excited that our season's just not over," describes senior Olivia Braunbeck. "We still have at least two more games to play." Braunbeck was also named player of the match for the girls game. 
"Going into states I think we're nervous but I think we're confident," says Togashi, referring to the boys team heading to the state tournament. "We believe in ourselves and the team and I think we're very connected. I think the way that we always perform, I think we should always stick to it. If it's a state game, if it's a regular season game, I think we should always do the same thing that we've been doing because it's been giving us success."
The girls are making their first appearance at states since 2016 and the boys since 2019.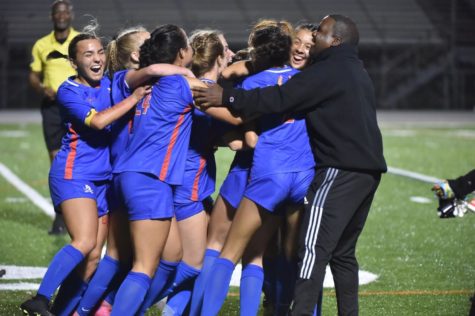 Both the boys and girls are playing today, Friday, at Bayside High School for the regional championship. The girls are playing First Colonial at 5:30, and the boys will be playing Cox at 7. Regardless of the outcome of today's match, both teams will be heading to the state tournament.