PA NJROTC's "Master Chief" says goodbye
After three years of instruction of PA's NJROTC, MCPO Carlos Giron, or better known as "Master Chief" to his cadets, is leaving PA. 
Giron is from Queens, New York, joining the Navy right out of high school. He recalls the moment he decided his career was like a lightbulb going off in his head, choosing to pursue aviation later on. "A lot of people have this misconception of the Navy," Giron explains. "They hear 'Navy' and they think of the ships associated and do not realize we have aviation." 
Giron's first squadron for seven years was out of Naval Air Station Oceana, right here in Virginia Beach, where he arrived as an undesignated sailor to choose his first job with the Navy. "I think I made the right choice," recalls Giron. "I went with Aviation Mechanic and that was the start of my career."
But it wasn't just aviation that interested Giron. He describes himself as "that typical sailor that doesn't stick around to just what [they] know. I like to know a lot more, I like to experience different things." Throughout his career in the Navy, Giron worked in many different parts of the country like Maine, Florida and Hawaii, then spending time in Hampton Roads, between Norfolk and Oceana in Virginia Beach. 
After retiring from the Navy, Giron searched for a position teaching NJROTC, and began at York High School in York County. Giron explains that he found his passion for teaching while in the Navy, instructing sailors right out of boot camp, also interested in aviation, on becoming a mechanic for the Navy.
Giron spent two years at York but switched to Princess Anne where he has spent the past three years. "The moment I got hired to teach NJROTC was a blessing," describes Giron. "The level of students that we have at Princess Anne is amazing and the administration is even better. My experience with NJROTC has been great."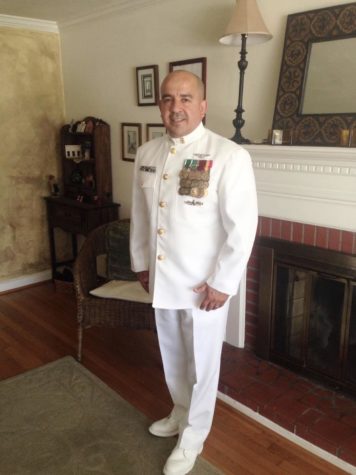 As one of the instructors of NJROTC, Giron describes that along with the curriculum in class, a lot of being an instructor is to teach the students how to become future leaders especially through learning from their mistakes. "Sometimes, we've got to let you fail, and when you fail, we bring you back and we say 'where did we go wrong? How can we improve in the future?' so you're not making the same mistakes and we continue that development." 
Giron credits his ability to teach students in areas like leadership from his experience in the Navy. "All the lessons that we've learned in the past [help] because we were not born leaders. Along my career, I'm sure that I've made some mistakes and you learn from those things." Along with his experience from his career, Giron believes that he has learned a lot about being a leader from many mentors in the Navy. 
But Giron believes that he continues to learn about leadership at this point in his career, especially from his own students. "Students…bring different things, different points of view into our generation and a lot of times we learn from [them]. It takes a lot of patience. It takes a lot for you to stay humble, and not a lot of people are humble enough to be able to do that. It's continuing to learn and continuing to establish yourself."
Giron wants his leave from PA to be final for his work, but does admit he would consider going back to the Navy in a few specific roles. 
According to junior Ella Scholefield, "The best thing about Master Chief is that he was a major pusher of military discipline and did in fact set high standards and was the first introduction of what the military is like. Although Master Chief is so special because he has the biggest heart and that always showed through every class." Scholefield describes how Giron cared for all of his students and was able to connect with them by sharing stories of his personal life. "He is the quintessential example of how you can have the biggest heart and at the same time hold high standards." 
Sophomore Kenul Vantwest shares a similar view of their instructor as Scholefield. "He isn't easy, but that's the point," explains Vantwest. "He is tough on us because he wants us to succeed, and for that I will be grateful. The cadets of PA/Bayside NJROTC are going to miss him, and I know I will, but it's time that he's earned his well deserved rest." 
To his students, Giron shares a few words of advice not only about NJROTC, but about life. "Don't give up. Don't miss out. One of the biggest pieces of advice I could give anybody is that high school is very short, you only get one shot so make it worth your while. When it comes to an end and you walk across that stage, don't be that student that says 'I wish I would've' just be ready for the future because the future is ready for you." 
In the words of Vantwest: "Fair winds and Following Seas Master Chief!"