The U.S. Navy Blue Angels recently came to Virginia Beach to perform at the NAS (Naval Air Station) Oceana Air Show on September 16 and 17. This was their 25th show this season, which began in March. As the Navy's flight exhibition team, according to their official website, their goal is to "showcase the teamwork and professionalism of the United States Navy and Marine Corps by inspiring a culture of excellence and service to country through flight demonstrations and community outreach." Lieutenant Commander Chris Kapuschansky, a Blue Angels pilot, also emphasizes their representation of the Navy and Marine Corps as a whole as well as their "pursuit of perfection."
According to Commander Alex Armatas, a typical week for the Blue Angels begins with practice flight demonstrations on Tuesday and Wednesday at their base in Pensacola, Florida. On Thursday they fly to that week's show site and mark out checkpoints, then do another practice demonstration that day as well as Friday. They perform on Saturday and Sunday, then fly back to Pensacola and take Monday off.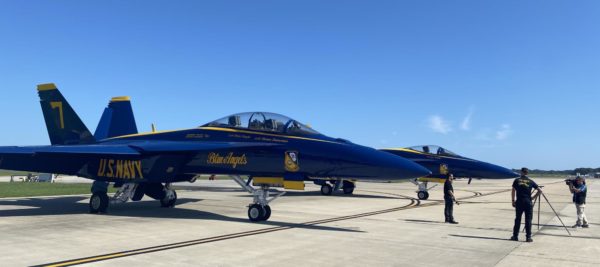 To Armatas, time management as well as efficiency in meeting goals is the most challenging part of being a Blue Angel, with more than 300 days per year spent away from home.
Many of the Blue Angels have a connection to Virginia Beach and the wider Hampton Roads area, whether they're originally from the area or have been stationed here. "All of our friends, [and] a lot of our family are here,"  said Kapuschansky, who is from Yorktown. "So it makes it really special to be back here with people that we've deployed with, people that we went to high school with, [and] people that we graduated college with…this entire show, for a lot of us on this team, is very special."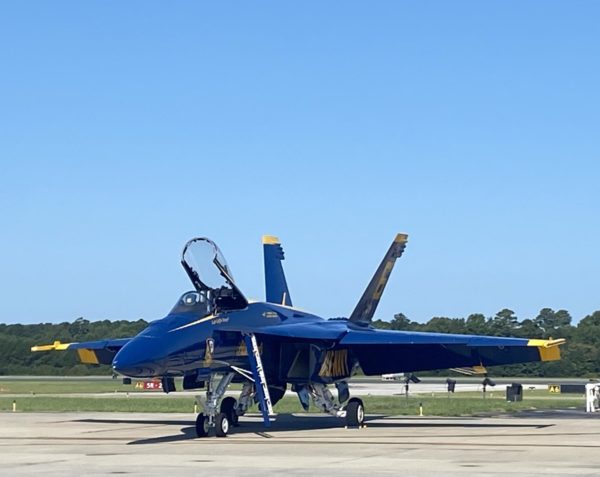 Kapuschansky realized that aviation wasn't just for the Air Force after seeing the Blue Angels at a Rhode Island air show as a child. Living in Yorktown, near the NASA Langley Air Force Base, allowed their family to attend air shows frequently, and his neighbor–a pilot for American Airlines–would take him on flights, inspiring him to become a Blue Angel himself.
Aviation structural mechanic Samuel Smith was raised in Virginia Beach and attended Kellam High School and Ocean Lakes High School. He comes from 4 generations of Navy service; his father was a mechanic stationed in Norfolk, and his mother has worked as a nurse for 35 years. "It's like a family affair," said Smith.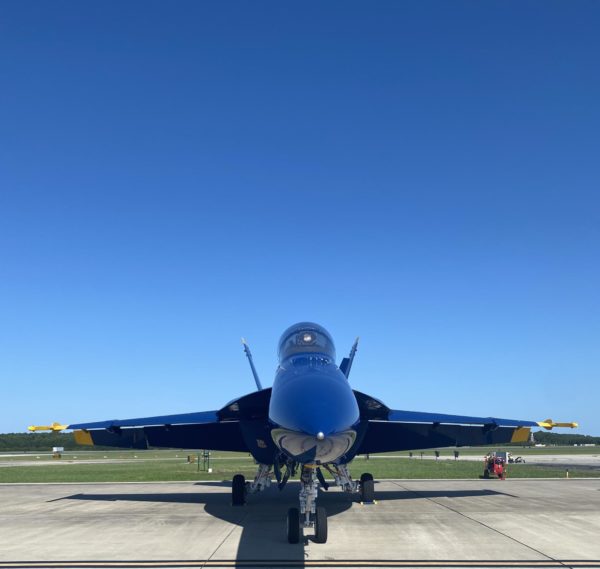 Lieutenant Flight Surgeon Philippe Warren is from Williamsburg; both his parents worked at the NASA Langley Research Center, exposing him to the aerospace community from a young age. He became passionate about medicine in college and joined the Navy while in medical school, and he received the opportunity to become a Blue Angels flight surgeon after his first year of medical residency. He advises students "to find what they're passionate about and then just pour all their energy into that," as he did with medicine.
As a flight surgeon, Warren is the primary care doctor for the Blue Angels pilots as well as support crew, specializing in altitude changes and G-forces: "if someone has a medical issue, it's my job…to see how it might affect their ability to fly and then…help them get better so they…don't have to worry about it while they're doing their normal thing," explains Warren. His favorite aspect of the job is the relationships he is able to form with his patients. 
 Although Commander Armatas is one of seven pilots, he emphasizes the importance of teamwork not just in the flight team but in the many supporting roles such as aircraft maintenance, medical care, public affairs, and logistics/defense planning: "We've got 143 members of this team and every single one of them relies on one another…They're all putting in a lot of work and a lot of time to ensure that we can provide a safe flight demonstration together." Smith also highlights the necessity of support crew while giving advice: "Do the best you can, whatever your job is, every job–that seems cliche but is important. You need people to cook. You need people to fix airplanes. You need people to be administrative. You can't all do the 'cool' job. So, whatever you do, just be the best at it."
Similarly, Kapuschansky advises striving for excellence: "People are going to rely on you. You're going to rely on people. You need to have that trust. You need to have that dedication [to] what you're doing," not just in the Blue Angels but in life in general. "Nobody will ever get to that perfection," he clarifies. "But, you know, you'll get close. And it's pretty awesome."