PA field hockey ended their fall season this past Friday in the regional semifinals with a record of 12-4. After 14 regular season games, the team beat Kellam High School 3-2 in the regional quarterfinal on October 25, but was stopped from advancing to the regional championship by Cox, losing 1-4. However, this loss was not without merit, as the team improved from their first loss against Cox at the beginning of October of 0-6, and was tied 1-1 for the first half of the regional game.  
Although ending on a lower note, the season overall for the Cavaliers included several hard-fought wins, like their first defeat of Kellam, 4-3. The game went into sudden death overtime, with junior Sydney Raguini scoring the winning goal. "We ended in overtime about five to six minutes in," described Raguini. "I stole the ball and took it and shot the goal." Raguini explains that Kellam has been the team's "sworn rival" for years, and she felt like she made the goal for her senior teammates. 
Raguini describes their second win against Kellam as the "icing on the cake" of their season: "It showed our determination to prove them wrong and also our composure because that game was pretty intense." 
The team also got the ball rolling in their second game against Cape Henry Collegiate, beating the Dolphins 3-0–a notable win coming back from their 0-8 loss the previous season. 
Going into his second year of coaching field hockey for PA, coach Don Warner described how many unknowns of his first year were cleared up going into this year's season. "I felt that we'd have a pretty solid year," said Warner, explaining his expectations. "I knew we had a good senior class coming in, knew our freshmen…were going to help, and knew our sophomores and juniors were one year better."
Warner describes how the redistricting of Great Bridge High School and Kellam was an unknown going into the season, as the team had to figure out how they would match up against both teams. But after wins against both schools, according to Warner, "the season started and we played some pretty good hockey." 
Coming into her first year of field hockey at PA, freshman Reese Klute said she was surprised at the difference from her experience playing in middle school. "I wasn't expecting for our team to be as intense as it was, but it was definitely a good surprise and I thought it was really beneficial to my skills."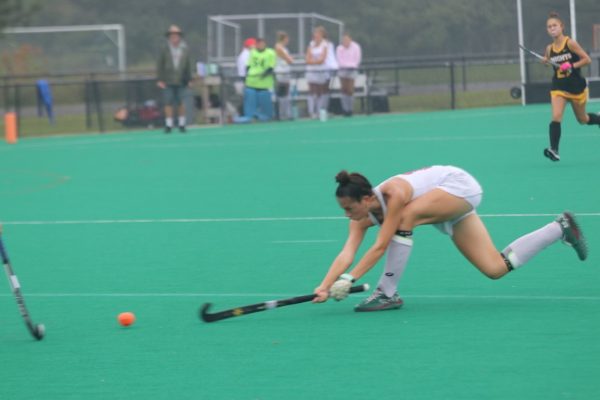 Throughout the entire season, Warner explains he was focused on "build[ing] from the bottom up" by helping players who hadn't played the sport as long to get as good as some of their more skilled players. "I thought we did a pretty good job of building our baseline," said Warner. "Getting those that hadn't played a whole lot of hockey to be better…helps our top kids find success." 
According to Warner, the team saw the most improvement across the season in goal scoring, and specifically scoring from further away. 
Klute believes the team improved the most in their relationships on and off the field. "It helped us to win games just with communication and everything like that." 
Senior Sarah Ellis agreed with Klute's assessment, explaining "our biggest improvement was our team chemistry. We trusted each other a lot more this season and were able to spread the wealth in a way that made everyone better." 
Although the team lost in the regional semifinals both last season and this season, Warner describes how they improved in score this year in the tournament. "We've still got a lot of catching up to do in respect to FC and Cox," said Warner. "But they've had established programs for a couple of years now." Warner says the team will improve as they continue to practice in the off season, but he respects his players' commitments to other sports. 
Although Raguini says the team will suffer the loss of two key seniors, Sarah Ellis and Mackenzie Short, she believes the team will continue to find success. "I think our program will keep trying to build, and our underclassmen that are becoming upperclassmen are going to show superiority and grit. I think we'll be good."