As the boys cross country team was the 2021 Boys 5A Region Champions and the girls cross country team has been a state-qualifying team for 12 years, both boys and girls cross country seasons have continued to be "improving really well" according to boys runner, junior Danny Florkowski. 
"Going into the season my [goal] was to break 20 minutes [in the 5k]," said Florkowiski. During the season, he describes seeing a lot of improvement due to the help of teammates and new shoes. Florkowski says his favorite memory over the season was the team dinners and pasta parties, along with the movie nights with the team. "Next season, I see myself hopefully leading the team a bit…guiding the way for lower classmen."
"My expectations going into the season was to obviously run fast," said boys runner, junior Daniel Rockey. "I recently broke a PR (personal record) of 16 minutes in the 5K last weekend, which was my goal for the first race [of the season]." 
Rockey sees improvement in the sport very important to his future. "I have been wanting to go D1 ever since Sophomore year, and it was a possibility for me Freshman year because my team kept telling me that I was getting good," said Rockey. "I'm just working hard so I can meet the times and hopefully soon I can contact college coaches." 
"I was a little nervous for the team [this year] because we had a lot of freshmen, but they turned out to be really fast," said girls runner Captain, senior Ella Scholefield. Scholefield's favorite memory of her time on the team is doing a lot of team bonding, including a powerpoint night and a Just Dance night last year.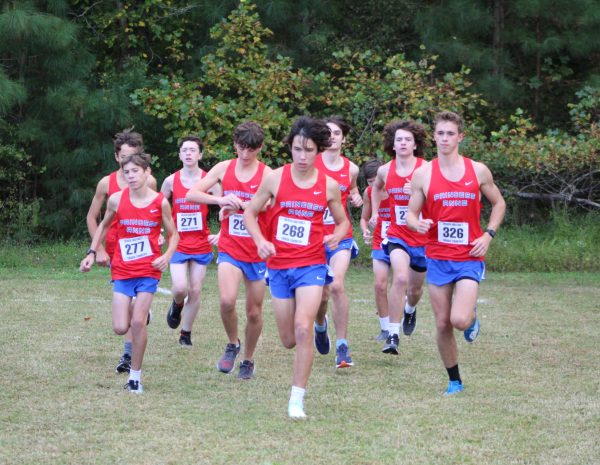 "In the future I'm probably not going to run that much, but I really like trail running once or twice a week," said Scholefield. "I really like the cross country sport for the team, more so than the running." 
According to girls runner, junior Ysabell Wells, her expectations going into the season were high for the team because they got a lot of new members, especially freshmen, so she was hoping to see a lot of improvement. "I definitely saw a lot of improvement from the freshmen," stated Wells. "I also…got about 20 seconds off my 5k time this season." 
Reflecting on the season, Wells said, "A favorite memory from this season was packing into our coach's minivan for meets, and dressing like minions to volunteer at the Wicked 10k."  Wells is one of the members of the team who also runs track in the winter and spring seasons: "I am looking forward to indoor track and really hoping we can put a strong relay team together this year.