Student NCAA bracket winner
Senior Adyn Moehring defeated the field in The Page's Seventh Annual NCAA Men's Basketball Bracket Tournament, with 39 correct picks, despite having no teams in the Final Four.
Said Moehring, who led the students the entire way, "Truth is, I don't follow college basketball that closely. I just did some general research. I'd say my best pick was UNC over Baylor."
Bethany Crittenden, Emma Fuhs, and Luke Lerner all finished one point back.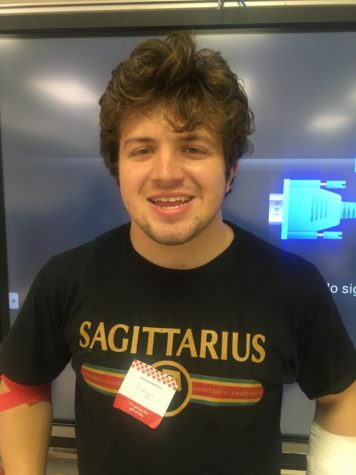 "I didn't really have a strategy," said Crittenden. "I just sorted followed the numbers.
Lerner is kicking himself for one pick in particular: "I had South Dakota State going to the Sweet 16," he said with a sad grin. "But I did pick UNC over Baylor."
Leave a Comment
Staff NCAA bracket winner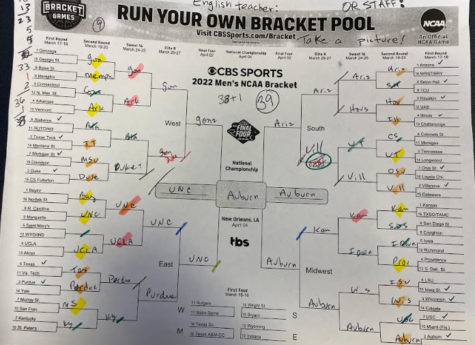 Principal Danny Little won the staff division of The Page's Seventh Annual NCAA Basketball Bracket Contest, followed by one point by Jason Barefoot and Steve Delaney. He was the only staffer to pick North Carolina to reach the championship game, giving him several points against the field.
"I will start by saying that I am not a Carolina fan," said Little.
"However common sense was my inspiration in beating out Barefoot and Delaney. The history of Carolina basketball says it all, as they have always had the best athletes on their team. They would have won it all this year if their best athlete had not gotten hurt during the closing moments of the game…so they fell short of total domination. In the future, just pick the team with the best athletes and forget about all the hype, hopes and dreams!"
Virginia Tech alum Barefoot got carried away by the Hokies' ACC Tournament victory, picking them to make it to the title game.
Said Little, "Mr. Barefoot is a true DREAMER and this pick proves how DAZED and CONFUSED he has been for many years!  He would have had a better chance of beating out John Boyd for his role as Papa Shrek than wasting his time with this pick. This pick earns him a well-deserved…C'MON MAN!
Said Barefoot, "Yes, I would hope that if a large amount of money were to have been on the line that my brain would have overruled my heart, thus dissuading me from selecting the Hokies to go all the way to the Final against eventual winner Kansas. 
"What was I thinking? I wasn't. I was drinking the Orange and Maroon Kool Aid and was caught up in Hokie basketball mania." 
And reality set in. "If I had picked the Hokies to lose at any point prior to the final I would have won! Arrggggg."
Delaney said there is a silver lining in not winning.
"Ultimately, picking Duke was an inadvertently wise move, because if Duke had won, I would have beaten my boss, and it's never a good move in life to beat the boss," he said.
Delaney added that he did not expect Coach K to go into the sunset as he did, but added, "Beating Barefoot, however, always brings joy."
But Delaney may be sipping Barefoot's Kool Aid: "JMU Dukes for the win in 2023!"
Little gets the last word, however.
"It was an honor to participate and win. I just wish the competition in the final rounds was more competitive and in-tuned with reality. I apologize for my off-the-chain remarks and actions as that is what happens when athletes are forced to compete with common folks!
"I will continue to pray for all the Hokie fans…especially Mr. Barefoot!
"And it is a great year to be a Cavalier."
Leave a Comment