The road to the majority: two VB Democrats' joint office opening signals tough November election fight
While midterm elections wrapped up just a few months ago, election season is back in full swing in the 757. On March 22, two Virginia Beach Democratic candidates for House of Delegates held a joint office opening, indicating a united coalition for the June primaries and November general election in which all seats in the Virginia Senate and House of Delegates will be on the ballot. However, there's a catch: these elections will commence the adherence to newly drawn districts. 
After narrowly losing re-election in the 2021 House of Delegates election in an upset to Republican challenger Karen Greenhalgh by a mere 127 votes, former Delegate Alex Askew is back and running in the newly drawn House district 95. He faces a June 20 primary against challenger Rick James. No Republican candidate has filed in the district, meaning whoever wins the primary will be the only candidate on the November general election ballot – virtually guaranteeing a victory for whoever the Democratic nominee is.
Michael Feggans, a 20 year Air Force veteran, is running in the newly drawn House district 97 which encompasses PA's campus. As no other candidate met the petition requirement for the June 20 primary, Feggans is the presumptive Democratic nominee. In November, he will face Republican incumbent Delegate Karen Greenhalgh.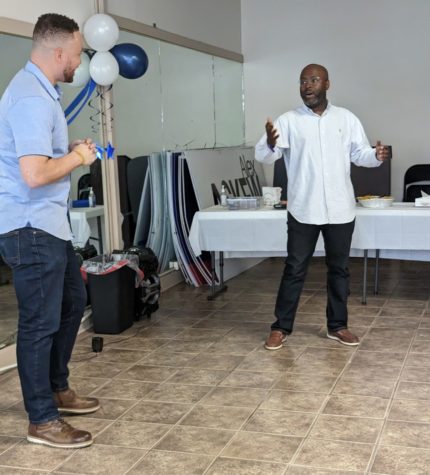 "The road to win back our majority goes through the 97th," proclaimed Feggans. "If we want to protect abortion rights and stand up to Governor Youngkin, we must take back our majority – that's what I'm here to do."
House district 97 is set to be one of the most competitive districts in Virginia, according to The Virginia Public Access Project. 
Askew spoke after Feggans: "Now that Governor Youngkin is no longer running for president, he has millions to spend on this election."
This remark is in response to wide-spread speculation that Governor Youngkin would throw his hat in the ring for the 2024 GOP presidential primaries. Recently, however, the governor has declined running "this year," according to Politico.
"With limited Republicans running in  several districts, that means the GOP will have more money to spend in closer, tougher districts like Feggans'," Askew continued. "We saw what happened with the overturning of Roe. We cannot go back and we will not allow the commonwealth to go backwards. Our fight is for Virginia working families, for women, for the LGBTQ+ community, for the disenfranchised. We will not turn the clock back this November."