Seniors win Powderpuff game 20-0
By John Kibler
The evening was cold and bitter, but it didn't matter for the PA senior class. After beating the elements and some dubious officiating, the redshirt seniors managed to come out on top of the annual Powderpuff ("PowderTuff") football game, 20-0.
"At first it was kind of wild deciding where to put everybody, but eventually we kind of got a groove going and it ended up being pretty effective," said senior Sage Thomas.
"At practice I was comfortable," said junior Sarah Olander, "because I was like 'oh these are just my friends, let me run at them and block.' But once we're on the field, looking at the seniors who had all that confidence, it was a little bit more scary. And I also generally just didn't know how to play football." That mindset may have been the greatest factor for the final score.
"[The junior performance was] not bad," said Thomas. "Special shoutout to the Lisners and Danielle [Prisinzano]…on their part, they did a really good job.
"They were good competition."
"Defense killed it," said Thomas. "Crushed it from the start. They were ready to dominate from day one. I have nothing but good things to say."
The defense's strength was indeed a highlight of the night, accentuated by a junior getting decked to the ground after rushing for nearly 35 yards at the start of the third quarter. Uncalled by the officials, it seemed like someone obviously forgot they were playing two-hand touch. Shortly after, the juniors once again threw an interception.
"It felt like tradition was supposed to happen," said Thomas, "and that we fulfilled our part, our duty as senior class, and that we didn't have an awkward loss. We've kept a success train going for a while now."
The end of the first quarter came and went with no score for either team. Two-and-a-half minutes into the second quarter, however, senior Shayla Dawson scored the first touchdown. The cheerleaders' aggressive celebratory push-ups on the sideline effectively represented the spectators' excitement for the long-awaited score.
Dawson finished with all three of her team's touchdowns, scoring two of them in the fourth quarter. The last came with three minutes left on the clock, at which point the spectators' complaints about the cold was the most audible. This pushed the seniors to what could have been a 21-0 scoreboard, had it not been for Rachel Lisner's swat on the extra point attempt.
"I was very surprised with the outcome…" said Thomas. "I knew it would turn out in our favor, but just the way that it happened with Shayla getting all three touchdowns, it was really cool."
Dawson and quarterback Ella Mangels, who was also a prominent difference maker for the seniors, shared senior MVP honors..
The official junior MVP of the game, announced a day afterward at the pep rally, was quarterback Danielle Prisinzano. She was her team's "main player," according to Olander.
The cheerleaders ended the first half with a sort of cheer-war–and the junior class looked quite intimidating with their "J-U-N-I-O-R-S" and "Overrated!" chants. At that point I almost forgot that they were down 7-0.
The halftime show was a spectacle. It started off with a dance sequence (which anyone could have easily and correctly assumed was organized by Powderpuff cheerleaders) that combined a number of moves, including, from what I could tell, a stationary version of BlocBoy JB's "Shoot," the iconic sprinkler, the bend-and-snap from Legally Blonde, and elements from the "Jingle Bell Rock" dance from Mean Girls. Afterward, six cheerleaders, including junior Daniel Bojo, got up on the hands of their fellow classmates and directed cheers aerially.
"I think I have some new respect for cheering," said Bojo, "because it's actually really hard…Actually standing there without falling, that was a big thing for me."
Next they got in a line and showcased all of the athleticism that the junior and senior class boys had to offer, through the likes of barrel rolls, somersaults, cartwheels, a few impressive backflips, and, of course, Fortnite dances. Senior Quimey Moure showcased a front flip, two one-handed cartwheels, and an aggressive worm.
"I would have to give [MVP cheerleader] to Quimey," said Bojo, "because in the halftime show he was really ambitious with all the flips and jumps and get-ups that he did. Props to that."
With only three days to practice, the players were forced to create easy-to-learn plays.
"[We ran] really simple plays," said junior athlete Sarah Olander. "It was like 'Run five yards, turn left, and then catch the ball.' They knew we weren't the best at football, so they kept it super simple."
"I think that was partly the coaches," said Bojo. "A lot of the people that played, they told me that the coaches didn't really settle into their positions or really know the correct drills to do until the last day, so it was partly that disorganization. But I think the juniors were kind of caught by surprise, because they didn't realize how aggressive the seniors were. They were also just really confused about football."
Despite the loss, many juniors enjoyed the experience.
"I didn't really expect it," she said, "but especially at practices I met a lot of new people that I hadn't ever really talked to before. I don't have any classes with them, but at practices I was able to spend some time with them."
About the Writer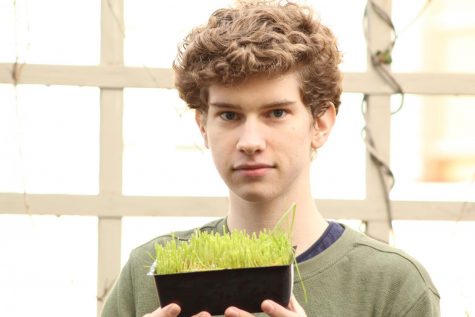 John Kibler, Staff Writer
Howdy! My name is John Kibler, and this is my second year on staff. In addition to writing for The Page, I am a Workshop staffer, junior class president,...