Grimes broadens his horizons at Under Armour Future 50 Camp
By John Kibler
The nation's top 50 high school football players in the Class of 2021 took the field in Orlando to participate in workouts and scrimmages Jan. 2, as participants selected for Under Armour's Future 50 Camp. Among this group of astounding athletes was Princess Anne's own bid of representation into the elite group of high school prodigies: cornerback Tony Grimes, the single best cornerback and second best overall defensive back in the nationwide class of 2021, per 24/7 Sports.
As a junior, Grimes is far into the process of choosing a college commitment to continue his development. But the positive media coverage and designation as No. 1 CB isn't necessarily important to him in that regard.
"Colleges, sometimes they worry about it [No. 1 CB], and sometimes they don't," said Grimes. "But for me, it just gives me more confidence in myself and confidence overall, just knowing I'm the best out there. And anyone I line up against, they're going to have a tough battle."
With over 35 college offers on the table to far, Grimes isn't worried about exposure. The most important aspect of Future 50 to Grimes, in addition to a greater sense of confidence, was facing a wider demographic of talent than what he sees in Virginia.
"The point is knowing you're the best, taking on the best, getting better," he said. "So when I'm a [defensive back] and I face elite receivers that I don't see in Virginia, it just helps me get better. You get beat sometimes, but you learn."
"People from Texas, people from Florida, people from LA, a lot of talented people in the country. [Everyone was] very different. Tall, skinny, fast, shifty, good hands, possessive catching, everybody."
And anywhere he goes, especially when there's national talent, the media is sure to follow along and get any notion possible on where the best CB in the country may commit. On social media, comments and replies pressure his decisions on certain schools.
"It gets annoying, especially when they're not in my top [choices]…That's very annoying," he said. "But if you're in my top [choices], and you're recruiting me, and I like you, I'm going to make time to come down and see you."
He has narrowed his list down to 13 schools, and among them are powerhouses Georgia, Clemson, Ohio State, and Texas A&M.
If you take a look at Grimes' social media profiles, you will quickly notice a trend. His bios reference the fictional villain of the Joker, and his 2019 season highlight video features a clip of the Joker from The Dark Knight (2008). The caption reads, "Why So Serious?"
One might be surprised that the young prodigy paints his image as a villain. But any knowledge of the backstory reveals that the Joker is not much of a villain at all, but rather an adept outlier unafraid of self expression.
"The Joker is different. He's different from everybody," said Grimes. "He's got his own way of doing things. Some people are scared of him, some people mock him, some people want to be like him. That turns to me: I'm different in a football game. People look up to me. Some people hate me, some people like me. But I'm just different in all aspects of the game."
While making preparations for his senior year and final chapter at PA, Grimes has also received an invite for the High School All-American Bowl next January.
About the Writer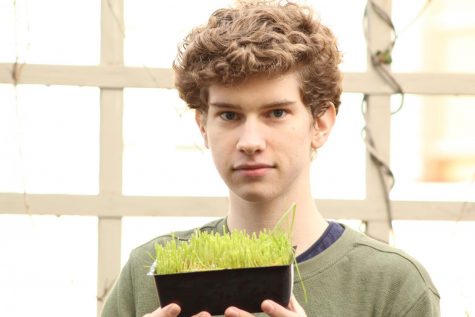 John Kibler, Staff Writer
Howdy! My name is John Kibler, and this is my second year on staff. In addition to writing for The Page, I am a Workshop staffer, junior class president,...