Celebrating Cadence Nguyen: her impactful yet unexpected role in PA's volleyball program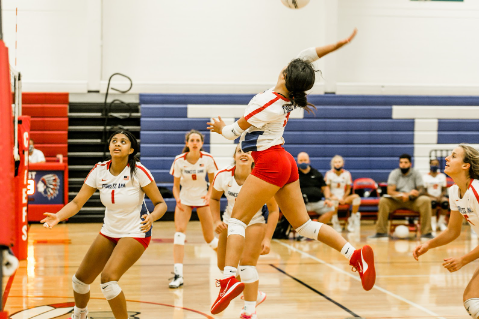 Earlier this school year, PA volleyball's senior libero Cadence Nguyen committed to the University of Delaware to play at the Division I level. Actually, she's a senior outside, something she, and no one else, ever expected. "New position," said Nguyen. "I'm always up for a challenge." She has always played libero, and was expected to be the libero for PA this past season, but she stepped up to be an outside hitter when she recognized that the team was in need. 
Nguyen is a 4th-year member of the volleyball team, and proved herself as a key asset to the team during just her freshman year, playing back row for an injured Jayna Francis (a 2018 UVA commit). In the 2021 preseason papers, she was referred to as "Senior Libero Cadence Nguyen," showing that there were big expectations for her as a libero this year.
A few practices before the first game of the season, Nguyen went to Coach Brandon Duvall with her mind set on one thing. "You can put me at outside," she said. "I don't care about the libero jersey. I just want to win."
She did this with no provocation from Duvall or her teammates. In captain-like fashion, she stepped up when there was no one else to. When talking about Nguyen, Duvall kept using the word "sacrifice." Nguyen sacrificed playing her position that she's spent countless hours developing, and even sacrificed a potential libero-of-the-year title, according to Duvall. 
"There were a lot of doubts about my ability to play outside, mainly because I'm short, unfortunately," said Nguyen. Standing at a height of only 5'3", she would face other outsides at around 5'10", a potentially huge challenge for any shorter volleyball player. However, this was not the case for Nguyen as her training and acquired athleticism would help her to succeed through 7 inches of height difference. "She doesn't let being the smallest person on the court have anything to do with her ability," Nguyen's mom, Laura Ngyuen, commented. 
To those who know her, Nguyen is with no doubt a special individual. "I mean, she's got grit," her mom said. "I'll give it to her." Her teammates say that she has drive and incredible leadership skills.
Duvall said, "I'll tell you, she's definitely one of the best that I've ever coached when it comes to somebody who [no doubt] should be captain." He also mentioned that with Nguyen, everyone is included, regardless of freshman, sophomore, junior, or senior. "We're all kinda together," Duvall said. He added that she's just one of those people who's fun to be around.
Duvall's advice for Nguyen going into Delaware is to "be her." The only thing that she lacks, he thinks, is that she doesn't have the collegiate athletics experience yet. He described this experience as a job, but acknowledged that when you truly love something, like Nguyen does with volleyball, six-hour bus rides and waking up at 5:45 a.m. isn't such a big deal. Duvall reiterated: "Be her, keep working, and enjoy the process."
As the 2021-2022 school year comes to a close, Nguyen's advice for the future of PA's volleyball program is to "Be gritty." She stresses, "Work hard, want to be better, and have a competitive nature, but also be good to each other."